"Ahhhh, look at my hands!" yelled Seka. "They're green like the Grinch!"
"That's from the cookies," smiled mother.
The buttery sweet aroma of the christmas cookies wafted through the kitchen. Mrs. Baker and her children, Seka and Paul, inhaled the scrumptious smell as they finished decorating the cookies.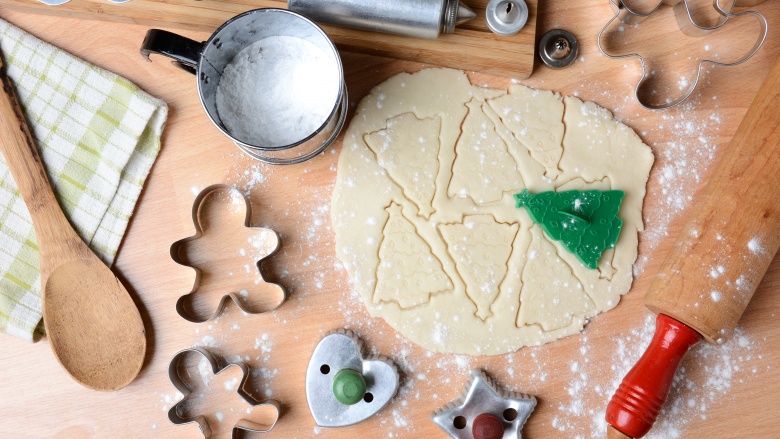 "Mmmm, can we have one?" asked Seka.
"Only one each, and that's it," mother snapped. "Set one aside for father, and the rest we will save for Santa and his reindeers."
"Are reindeer allowed to eat cookies?" asked Paul.
"Let Santa make that decision." replied mother. Then turning to Seka she said, "Wash your hands a few times with soap and warm water and they will come clean. I may have put a little too much green food colouring in them."
"Hey wait, what does Paul have behind his back?" shouted Seka.
"That's a cookie! Put that back, young man. You will spoil your dinner," fumed mother.
"We already ate dinner. In fact, it's almost bedtime," answered Paul. "I'm going to take one when nobody is looking," he whispered to Seka.
However they soon ran to their bedroom to get ready for bed. "This cookie is amazing!" mumbled father, licking his fingers. "I've got to have another one!" He stood up and started walking towards the kitchen.
"Stop right there!" yelled mother. "We made enough cookies for Santa and his reindeers. You can't eat more than one."
Father sighed and walked back.
Soon, Mom and Dad went their bedroom. Being Christmas Eve the family said a small prayer before sleeping. Father then went to lock up the house.

"Put the plate of cookies by the fireplace so Santa will see it!" instructed mother.
"Yes dear," replied father. "Hey, what are you doing in the kitchen Paul?" asked father with a surprise "I didn't even hear you come down the stairs. Why are you carrying the cookies?"
"I'm just helping you leave them out for Santa," explained Paul. "I'll put them on the table by the fireplace."
Soon, the family was sound asleep while visions of sugar plums danced through their heads, when Santa landed on the roof with a soft thump.
"Okay listen up reindeer, I only want Dasher and Comet to help me with this house. The Bakers are good people, so we really want to make this special for them," explained Santa. " I also know how much you two love cookies, and Mrs. Baker's are the best!"
So, Santa, Dasher, and Comet slithered down the chimney and began to hunt for the Christmas tree. "Boy, it's hot in here!" mumbled Santa. "Put your gloves and boots under the table, otherwise you will get too hot. I don't want you two overheating during the most important night of the year!" he said to Dasher and Comet.
Since Seka and Paul were so good this year, there was a lot of presents to set up under the tree. There were video games, a new Play Station, soccer balls, tennis rackets, and much, much more! Santa and the reindeer ran back and forth around the room setting up all the presents. Although, Comet kept disappearing, and Santa had to keep reminding him to keep working.


"It's been a long night," sighed Comet. "I'm pretty tired. I just want to lay down by the fireplace for a few minutes."

"We don't have time for that. It's time to get our outdoor gear back on, and go back up the chimney" ordered Santa. He then looked at Dasher inquisitively, "Wow! You're in a big hurry."

"What do you mean?" asked Dasher.

"You already have your gloves on. It's so hot in here. I can't imagine why you put your gloves on so early," said Santa.

"Oh, these," replied Dasher looking at his front paws. " I like to be prepared. Let's get going."
After putting on their gloves and boots, Santa and the reindeer looked around the room to make sure everything was magical. Then, they scooted back up the chimney, and climbed on the sled.
"You guys are so lucky!" whispered Dancer the reindeer to Dasher and Comet.

"Why do you say that?" asked Dasher.

"Because the Bakers always make the best cookies! Mrs. Baker got the recipe from Mrs. Claus herself!"
"The cookies!" shouted Santa slapping his forehead. "Hurry, Comet! Run down and grab them for us. I can't believe I forgot about them."
Comet jumped down the chimney, and came back up with an empty plate. There were just a few green crumbs leftover.
"This can't be!" howled Santa. "I look forward to these cookies every year! Mrs. Claus stopped making them because she was afraid the green dye was making the elves hyper. Now I'm going to have to wait a full year to eat them again!"
WHO STOLE THE COOKIES?